Self-checkout:
One solution to the labour shortage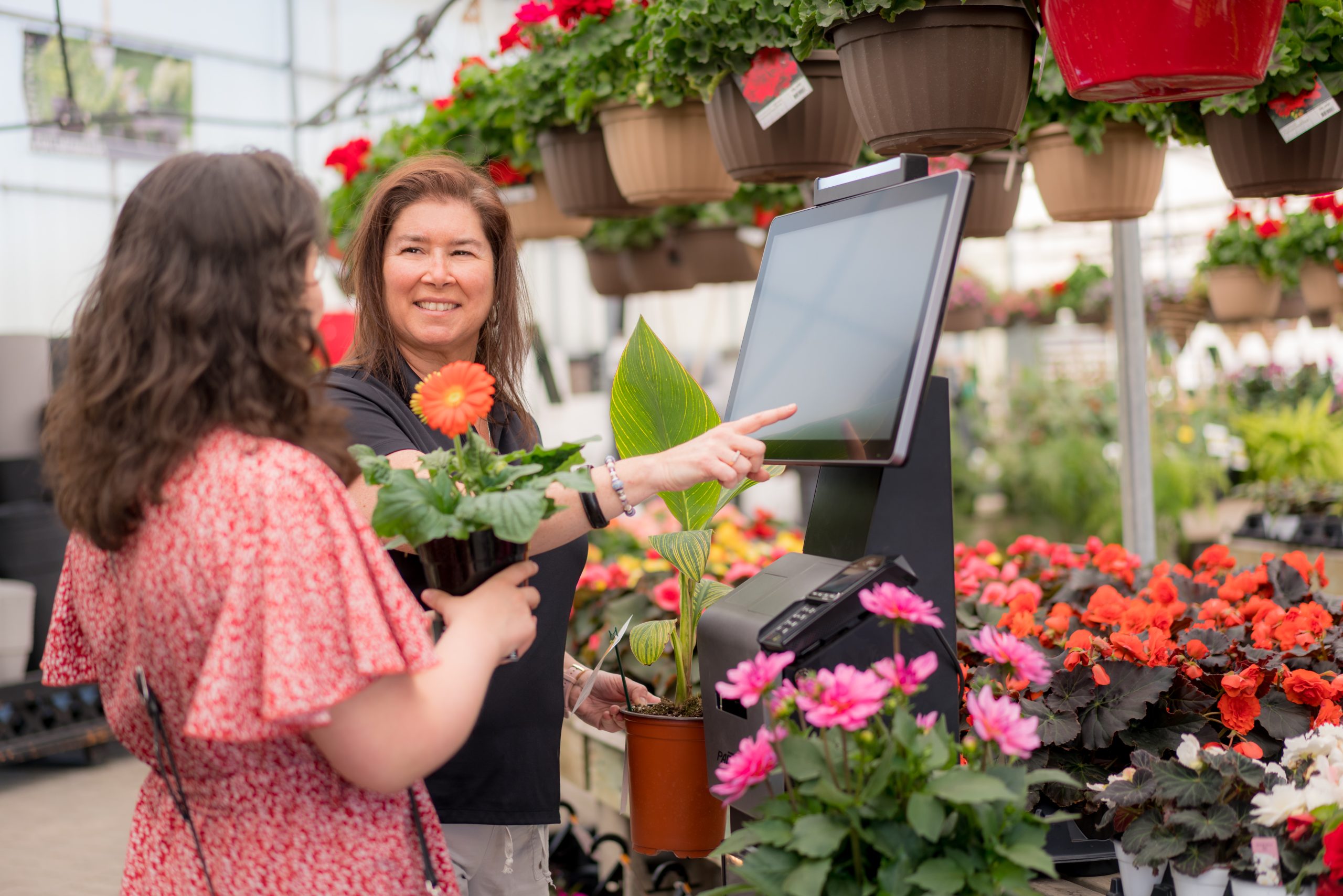 Self-checkout: One solution to the labour shortage
The issue of labour shortages has been making headlines in Canada for a few years now and the situation does not appear to be improving. Its effects have extended across all business sectors, including the hardware and building materials industry.
Companies have had to rethink their business model in order to mitigate staff shortages and recruitment challenges. Businesses are faced with having to deliver equal or better service with fewer employees without compromising their operational performance. Many companies have already started to implement solutions that focus on increasing their operational efficiency and keeping their staff motivated.
Investing in new equipment to automate specific processes within your business can be a viable solution. And that's where introducing a self-checkout solution can provide valuable opportunities.
Optimized management for retailers
Retailers can draw on the many advantages of self-checkouts to increase efficiency and productivity:
Improved resource allocation: With just one employee assisting customers, more staff is available on the sales floor. Employees can then focus on performing more substantial tasks that require human skills and expertise.
Quick employee training: The touch screen and graphic interface make the system easy to set up and learn. This shortens the time required to train employees, which gives retailers an advantage when staff turnover is an issue.
Increased number of checkout stations: Several self-checkout kiosks are smaller than traditional checkout counters, making it possible to install more of them in smaller spaces. This increases customer throughput and reduces line-ups.
Accessible anytime: Self-checkout, unlike traditional checkout counters, does not require a dedicated operator. This is particularly useful when you are short-staffed or experiencing a high influx of customers in the store. Also, most self-checkout systems feature an offline mode, so they remain operational even when the internet is disconnected.
Contrary to some belief, self-checkouts do not steal jobs from cashiers. In today's labor shortage environment, they allow them to perform diversified tasks and have more time to assist customers. For all these reasons, they are an essential ally to face the challenges related to the lack of human resources.
Finally, the self-checkouts not only meet the needs of retailers to optimize their operations and personnel management, but they also offer a better shopping experience to consumers. In fact, they have been widely adopted over the past few years and customers see them as a way to save time and increase efficiency at the cash. We will discuss this in more detail in a future blog, so stay tuned!
Self-checkout solutions for hardware stores and garden centres
ACCEO recently introduced new self-checkout solutions that seamlessly integrate with its OGC, Omni, and Profitmaster management software. Now is the time to try our solutions!
For more information or to inquire with our sales team, go to: www.acceolibreservice.com
4 tips to prevent shoplifting at
self-checkouts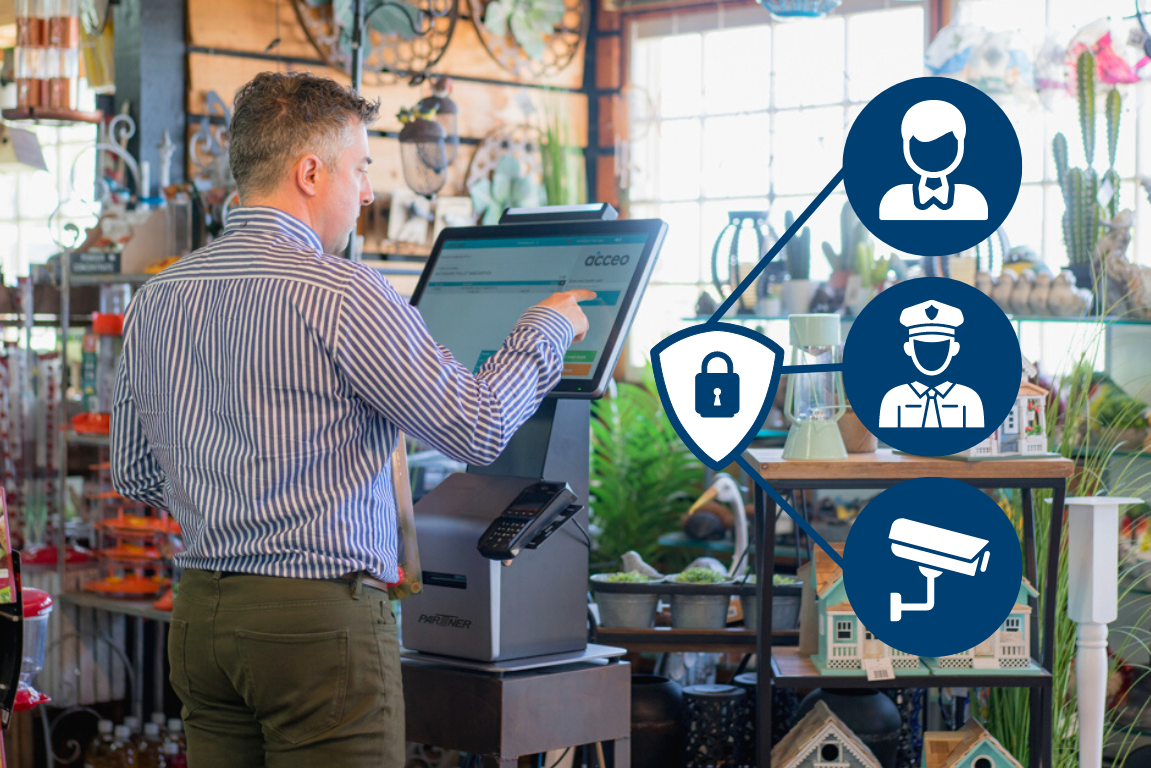 How to prevent theft at self-checkouts?
Without a doubt, self-checkouts have gained in popularity over the past few years. Indeed, these new technologies have developed well: they are now more user-friendly to facilitate the use by the public. At ACCEO, we have designed the Self-Checkout specifically for the hardware and garden center industries.
As mentioned in the blog "ACCEO Self-Checkout: The Cash-and-Carry Solution", self-checkouts are popular for customers and retailers for different motives. However, some retailers have noticed that this can lead to a higher risk of theft and fraud in their stores.
In fact, a study shows that up to 33% of self-checkout customers may be tempted to use a few tricks to reduce their bill. Tactics such as pretending to scan an item, omitting to scan a few of them, or replacing the barcodes of more expensive items with those that are less expensive. Even honest customers can forget to scan an item or have trouble with an unreadable barcode.
Combine efficiency and security
Fortunately, there are some security measures that can be used to prevent theft when you have a self-checkout in your store. There are several options available to you and some of these options can even help regardless if you have a self-checkout.
1 – Employee monitoring and assistance: better workforce management and human contact assistance
One of the most effective ways to both avoid shoplifting and increase customer experience satisfaction is to place a clerk as a spotter. Instead of having one employee at each self-checkout, the clerk can be responsible for several self-checkouts. This employee can ensure that the customer's purchases are scanned at the cash register, and if necessary, help the customer who is having problems with their transaction.
It is proven that the human factor is a determining point in the decision of potential thieves, who will be more reluctant to act if their action impacts a person rather than a machine. However, since your clerk cannot have eyes everywhere, it is possible to support them with other measures.
2 – Training: keep your employees alert and engaged
Train your employees with expert in-store loss management. Your employees will be aware of the scourge of theft, learn how to detect suspicious customer behaviour, and how to react in the event of theft or problematic customer behaviour. Also, training increases employees' knowledge, and competence and encourages them to stay and work for your company.
3 – A security guard: the deterrent effect
If your store is in an urban area or is busy, a security guard could be useful in several strategic locations. Whether positioned at the exit of the store to verify the content of the bags and make sure it matches the client's invoice, at the entrance of the store to greet customers and to show them they've been noticed as soon as they arrive, or walking the aisles as a client, there is an obvious dissuasion effect for potential thieves. Their presence will assure you that your business is under good guard while showing customers that you are on the lookout.
4 – Video Surveillance: always watchful
Surveillance cameras are another interesting technological tool to consider and can have several uses in a store. In fact, they are your eyes and ears, always on the lookout, and they can give you clues as to what is happening in many situations, such as when the store is experiencing recurring problems, like inventories that do not match or a sudden drop in customers, for example.
Cameras that capture transactions at self-checkout can be helpful in detecting theft in the act, as well as acting as a deterrent. Make sure your cameras are visible, don't forget to inform your customers that they are being filmed, and place your policies prominently in case of theft! It's even more effective when the customers can see themselves on a monitor.
In addition, video surveillance images can be used as evidence, if needed.
An integrated and winning security strategy!
There are several ways to counter theft at self-checkouts. Since you have probably already adopted an effective strategy to prevent shoplifting in your store, such as a secure layout, an audible signal at the door, an undercover security agent, or an anti-theft gate, it would be beneficial to integrate the means to fight theft at self-checkouts into this strategy. This will ensure that you take advantage of the benefits of this new technology and provide your customers with an efficient and pleasant customer experience to build loyalty.
ACCEO Self-Checkout: The Cash-and-Carry Solution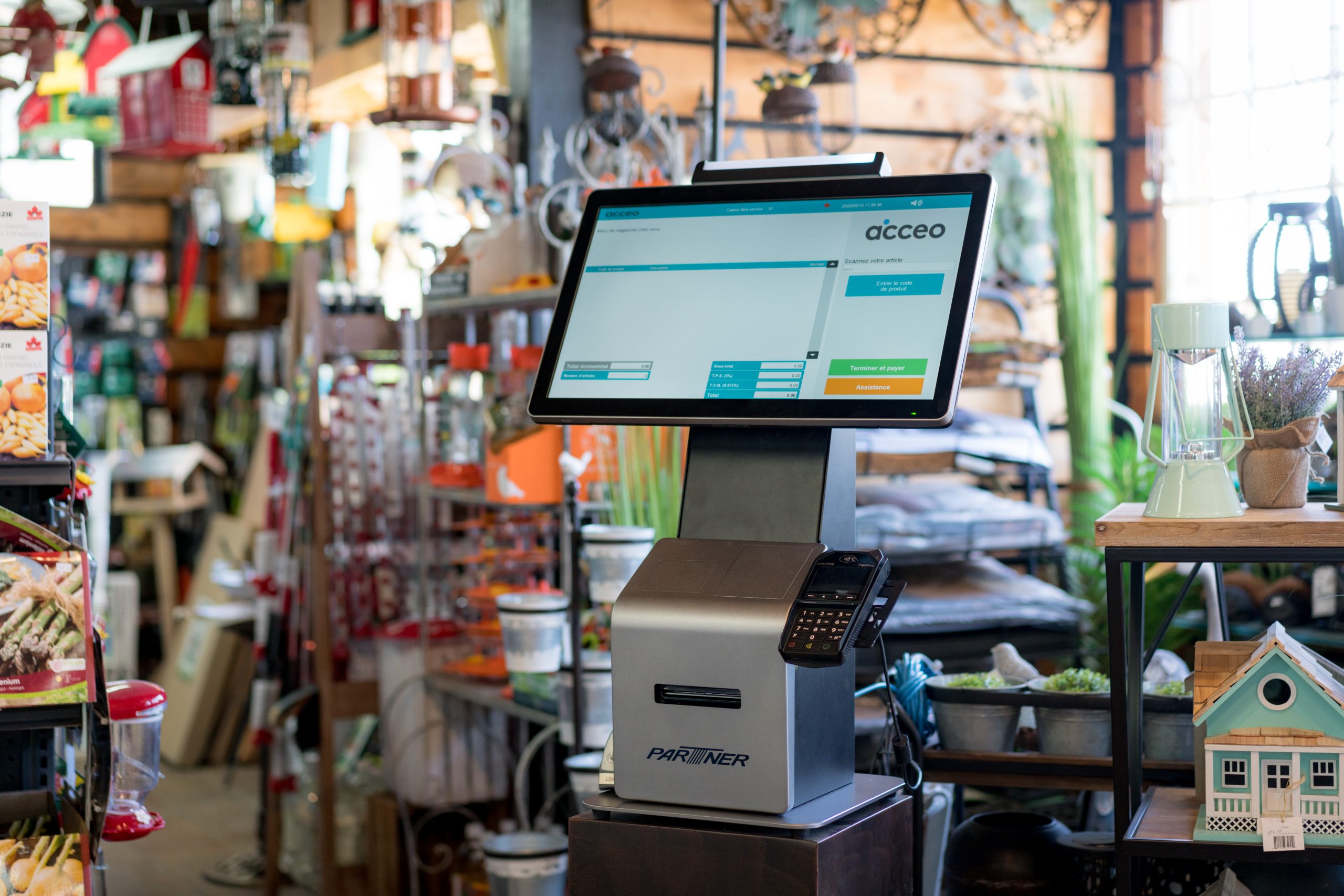 ACCEO Self-Checkout: The Cash-and-Carry Solution
There are many reasons why a self-checkout solution will be effective in your store for your cash-and-carry customers. With technology improvements and advancements, it's simple to install one or more self-checkout stations in your store to assist with your customer throughput. At ACCEO, we've combined the best of our software solutions with market-leading hardware to address your self-checkout needs.
---
Benefits for customers
Reduce lineups
Queuing is an inherently frustrating experience. Customers prefer to be given the choice to either wait in line for a cashier or go to a self-checkout station. By making a choice, customers feel they have taken control of the situation. And the time spent waiting in line is a determining factor in their satisfaction with their shopping experience. The goal is to reduce lines and waiting time while increasing throughput during peak hours.
Easy to use
Simplified processes mean there is little to no learning curve. The ACCEO Self-Checkout is designed to guide customers step-by-step in logical order: scan items, enter the number of bags, pay, and collect the receipt. An integrated scanner plus a handheld barcode scanner make it easy for customers to scan heavy items in their shopping cart.
Your customers will have a positive interactive experience. The self-checkout process addresses all the important senses. The responsive touch screen is easy to use with bright buttons to guide customers throughout the process. Voice prompts provide guidance on product prices and next steps. LED lights enhance the look of the station, but most importantly, signal that the station is open or closed, or that the customer needs help. This allows staff to quickly react and help customers who need assistance.
Fast checkout
The self-checkout allows customers to quickly pay for their purchases without the intervention of a cashier. This method is appreciated by many for its accessibility and ease of payment. The popularity of cashless payments means that customers are typically paying with credit or debit cards. Cashless payments, which are now often combined with tap technology, provide a fast payment experience. The customer can also scan a gift card or their store membership card. Self-checkouts offer a faster shopping experience for customers.
---
Benefits for hardware retailers
Free up staff members
Self-checkouts can help free up some of your staff who would otherwise be assigned behind a cash register. This is not a means to eliminate cashier positions, but rather a solution for optimizing the deployment of your resources and having more staff available to assist shoppers. Employees can then focus on tasks that require human expertise.
Adding self-checkout options allows you to provide a better in-store customer experience and a faster checkout even when staffing is tight.
Fully integrated
Self-checkout stations typically collect data on customer purchases, providing retailers with valuable insights into consumer buying habits and preferences. This information can be used to improve inventory management, target marketing efforts, and make other data-driven decisions.
The ACCEO Self-Checkout is integrated with our Omni, OGC and Profitmaster solutions as well as our point of sale solution, to provide you with optimal operational efficiency. You can run daily sales reports directly from self-checkout. Your staff can assist customers by entering a PIN to override a transaction based on their user level access. This will give you all the benefits of integrated management.
Small footprint
Floor space comes at a premium and space is limited in many retail environments. That's why ACCEO have chosen a design that takes up minimum space. Choose between a free-standing station or a countertop version to meet your space requirements. The free-standing model is approximately 5' 2" high x 3' 3" wide. The base measures 2' 2" x 1' 4" (rounded numbers).

---
Get the new ACCEO Self-Checkout Solution now!
If these points are speaking to you then it's time to try out the ACCEO self-checkout solution! Your customers are already familiar with experience at their local grocery stores, pharmacies, quick-service restaurants, and big-box stores. Self-checkouts will save you time, resources, and money in the long run! Contact us to get the complete turnkey solution for your self-checkout needs!