ACCEO Self-Checkout: The Cash-and-Carry Solution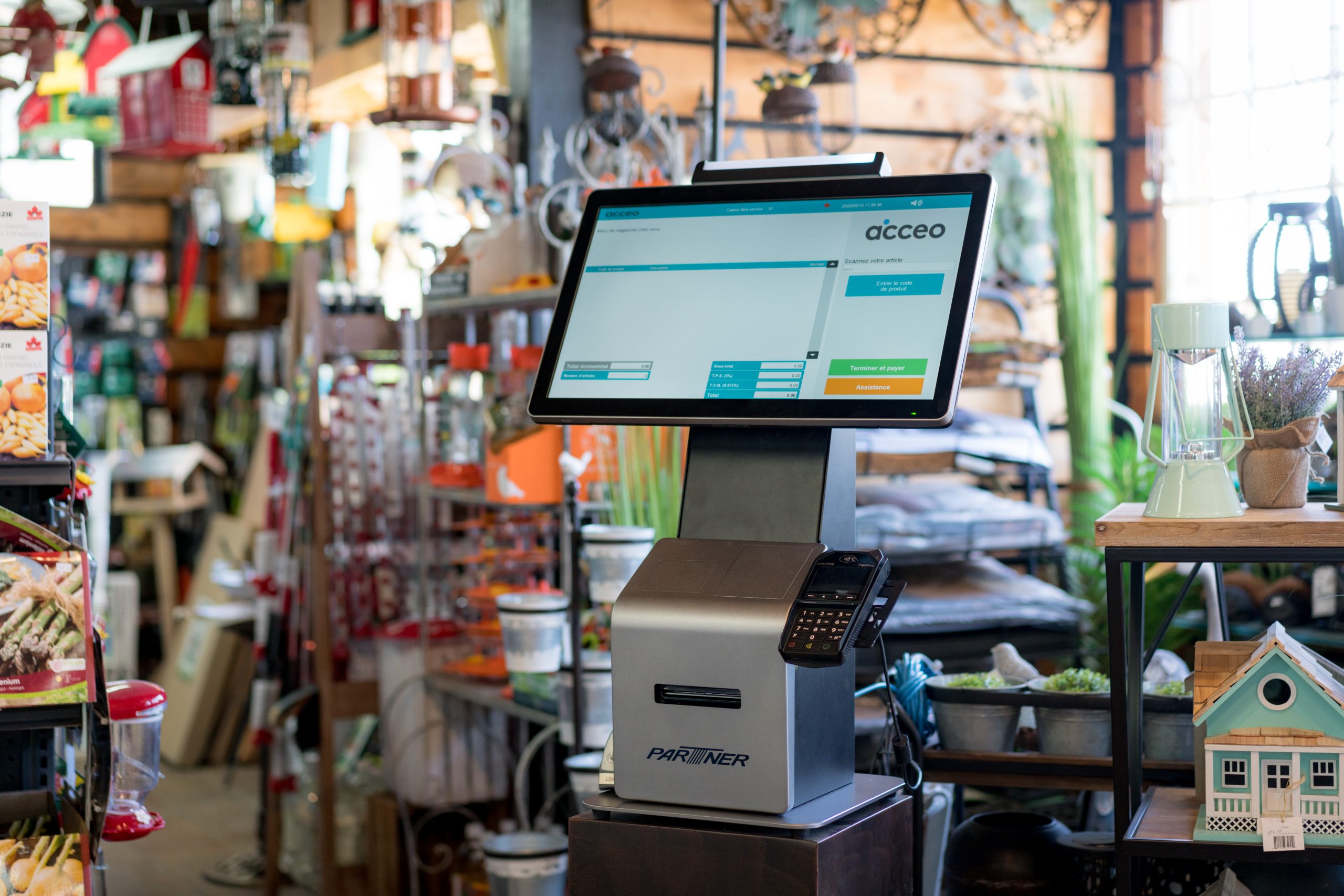 ACCEO Self-Checkout: The Cash-and-Carry Solution
There are many reasons why a self-checkout solution will be effective in your store for your cash-and-carry customers. With technology improvements and advancements, it's simple to install one or more self-checkout stations in your store to assist with your customer throughput. At ACCEO, we've combined the best of our software solutions with market-leading hardware to address your self-checkout needs.
---
Benefits for customers
Reduce lineups
Queuing is an inherently frustrating experience. Customers prefer to be given the choice to either wait in line for a cashier or go to a self-checkout station. By making a choice, customers feel they have taken control of the situation. And the time spent waiting in line is a determining factor in their satisfaction with their shopping experience. The goal is to reduce lines and waiting time while increasing throughput during peak hours.
Easy to use
Simplified processes mean there is little to no learning curve. The ACCEO Self-Checkout is designed to guide customers step-by-step in logical order: scan items, enter the number of bags, pay, and collect the receipt. An integrated scanner plus a handheld barcode scanner make it easy for customers to scan heavy items in their shopping cart.
Your customers will have a positive interactive experience. The self-checkout process addresses all the important senses. The responsive touch screen is easy to use with bright buttons to guide customers throughout the process. Voice prompts provide guidance on product prices and next steps. LED lights enhance the look of the station, but most importantly, signal that the station is open or closed, or that the customer needs help. This allows staff to quickly react and help customers who need assistance.
Fast checkout
The self-checkout allows customers to quickly pay for their purchases without the intervention of a cashier. This method is appreciated by many for its accessibility and ease of payment. The popularity of cashless payments means that customers are typically paying with credit or debit cards. Cashless payments, which are now often combined with tap technology, provide a fast payment experience. The customer can also scan a gift card or their store membership card. Self-checkouts offer a faster shopping experience for customers.
---
Benefits for hardware retailers
Free up staff members
Self-checkouts can help free up some of your staff who would otherwise be assigned behind a cash register. This is not a means to eliminate cashier positions, but rather a solution for optimizing the deployment of your resources and having more staff available to assist shoppers. Employees can then focus on tasks that require human expertise.
Adding self-checkout options allows you to provide a better in-store customer experience and a faster checkout even when staffing is tight.
Fully integrated
Self-checkout stations typically collect data on customer purchases, providing retailers with valuable insights into consumer buying habits and preferences. This information can be used to improve inventory management, target marketing efforts, and make other data-driven decisions.
The ACCEO Self-Checkout is integrated with our Omni, OGC and Profitmaster solutions as well as our point of sale solution, to provide you with optimal operational efficiency. You can run daily sales reports directly from self-checkout. Your staff can assist customers by entering a PIN to override a transaction based on their user level access. This will give you all the benefits of integrated management.
Small footprint
Floor space comes at a premium and space is limited in many retail environments. That's why ACCEO have chosen a design that takes up minimum space. Choose between a free-standing station or a countertop version to meet your space requirements. The free-standing model is approximately 5' 2" high x 3' 3" wide. The base measures 2' 2" x 1' 4" (rounded numbers).

---
Get the new ACCEO Self-Checkout Solution now!
If these points are speaking to you then it's time to try out the ACCEO self-checkout solution! Your customers are already familiar with experience at their local grocery stores, pharmacies, quick-service restaurants, and big-box stores. Self-checkouts will save you time, resources, and money in the long run! Contact us to get the complete turnkey solution for your self-checkout needs!