4 tips to prevent shoplifting at
self-checkouts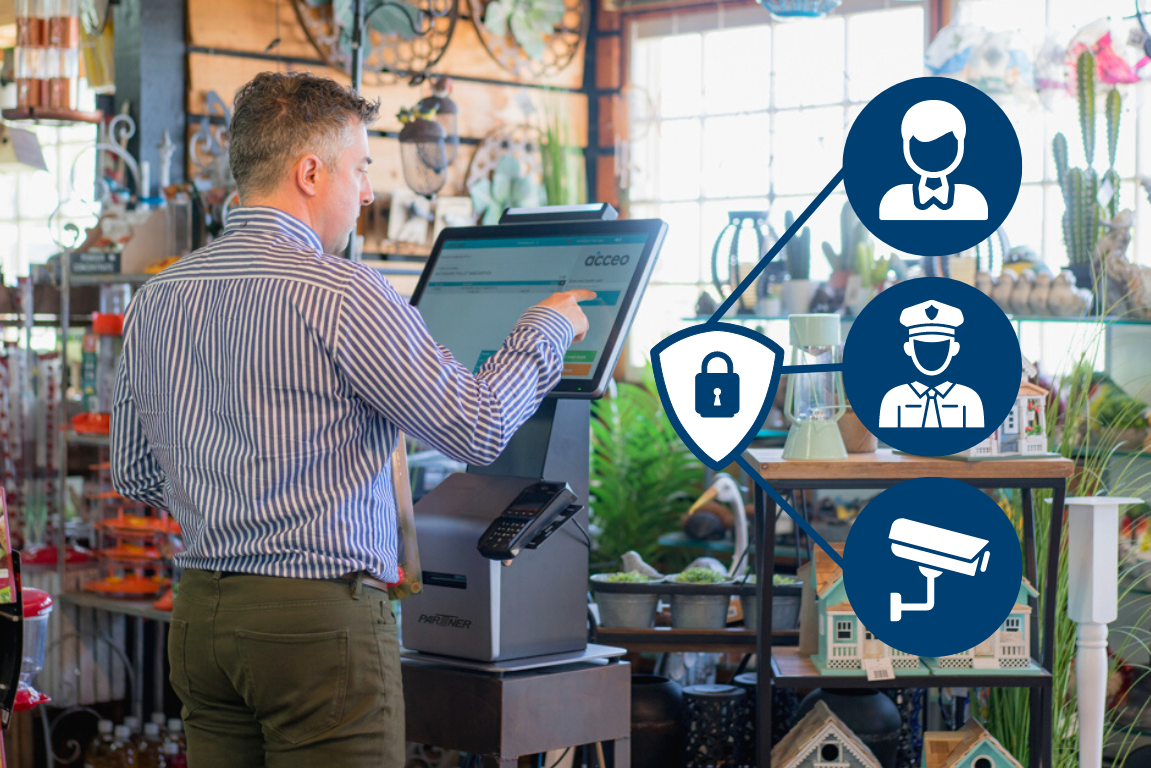 How to prevent theft at self-checkouts?
Without a doubt, self-checkouts have gained in popularity over the past few years. Indeed, these new technologies have developed well: they are now more user-friendly to facilitate the use by the public. At ACCEO, we have designed the Self-Checkout specifically for the hardware and garden center industries.
As mentioned in the blog "ACCEO Self-Checkout: The Cash-and-Carry Solution", self-checkouts are popular for customers and retailers for different motives. However, some retailers have noticed that this can lead to a higher risk of theft and fraud in their stores.
In fact, a study shows that up to 33% of self-checkout customers may be tempted to use a few tricks to reduce their bill. Tactics such as pretending to scan an item, omitting to scan a few of them, or replacing the barcodes of more expensive items with those that are less expensive. Even honest customers can forget to scan an item or have trouble with an unreadable barcode.
Combine efficiency and security
Fortunately, there are some security measures that can be used to prevent theft when you have a self-checkout in your store. There are several options available to you and some of these options can even help regardless if you have a self-checkout.
1 – Employee monitoring and assistance: better workforce management and human contact assistance
One of the most effective ways to both avoid shoplifting and increase customer experience satisfaction is to place a clerk as a spotter. Instead of having one employee at each self-checkout, the clerk can be responsible for several self-checkouts. This employee can ensure that the customer's purchases are scanned at the cash register, and if necessary, help the customer who is having problems with their transaction.
It is proven that the human factor is a determining point in the decision of potential thieves, who will be more reluctant to act if their action impacts a person rather than a machine. However, since your clerk cannot have eyes everywhere, it is possible to support them with other measures.
2 – Training: keep your employees alert and engaged
Train your employees with expert in-store loss management. Your employees will be aware of the scourge of theft, learn how to detect suspicious customer behaviour, and how to react in the event of theft or problematic customer behaviour. Also, training increases employees' knowledge, and competence and encourages them to stay and work for your company.
3 – A security guard: the deterrent effect
If your store is in an urban area or is busy, a security guard could be useful in several strategic locations. Whether positioned at the exit of the store to verify the content of the bags and make sure it matches the client's invoice, at the entrance of the store to greet customers and to show them they've been noticed as soon as they arrive, or walking the aisles as a client, there is an obvious dissuasion effect for potential thieves. Their presence will assure you that your business is under good guard while showing customers that you are on the lookout.
4 – Video Surveillance: always watchful
Surveillance cameras are another interesting technological tool to consider and can have several uses in a store. In fact, they are your eyes and ears, always on the lookout, and they can give you clues as to what is happening in many situations, such as when the store is experiencing recurring problems, like inventories that do not match or a sudden drop in customers, for example.
Cameras that capture transactions at self-checkout can be helpful in detecting theft in the act, as well as acting as a deterrent. Make sure your cameras are visible, don't forget to inform your customers that they are being filmed, and place your policies prominently in case of theft! It's even more effective when the customers can see themselves on a monitor.
In addition, video surveillance images can be used as evidence, if needed.
An integrated and winning security strategy!
There are several ways to counter theft at self-checkouts. Since you have probably already adopted an effective strategy to prevent shoplifting in your store, such as a secure layout, an audible signal at the door, an undercover security agent, or an anti-theft gate, it would be beneficial to integrate the means to fight theft at self-checkouts into this strategy. This will ensure that you take advantage of the benefits of this new technology and provide your customers with an efficient and pleasant customer experience to build loyalty.