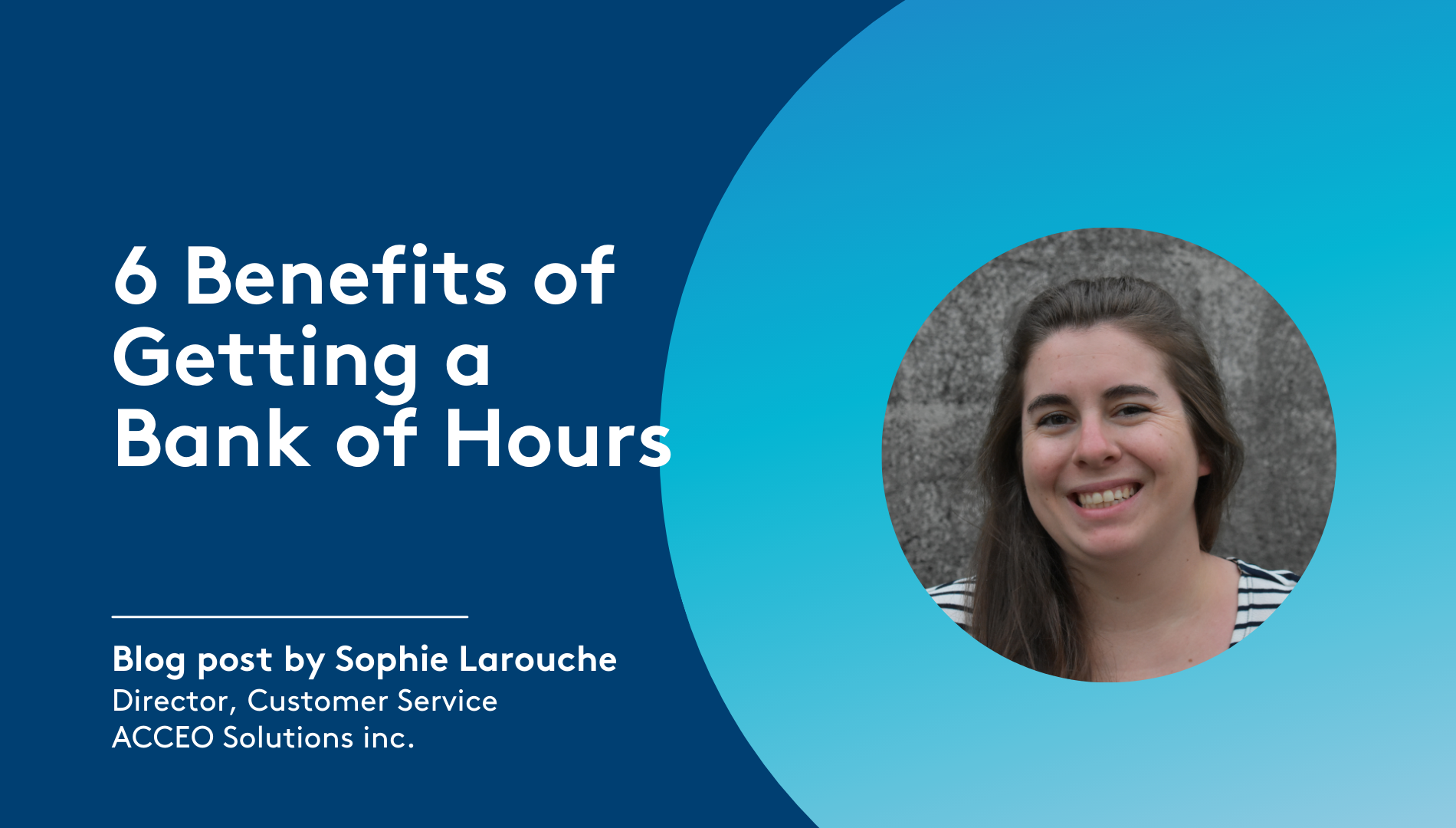 Have you ever replaced your computer and then had to reinstall the ACCEO Solution on the new device? Or moved a printer from one place to another in your store and found that you had to configure it all over again?
If your answer is yes, you have likely contacted the ACCEO customer service team for support. And after you sent your request, it may have taken a day or two before a technician could respond.
What if we told you that you can receive immediate support when you purchase a bank of hours?
When you purchase a bank of hours from ACCEO, you gain numerous advantages that allow you to boost your productivity:
The support team can process your request without delay (based on availability), which means you can get on with your normal business operations more quickly.
There is no expiration date on your bank of hours. If you do not use all your hours in the same year, you can transfer them to the next year. You also receive an email with your monthly balance to help you track the number of hours in your bank.
The bank of hours gives you access to advanced support, such as training (e.g. reconfigure printers, reinstall workstations, create a new employee in the system, assistance on receiving inventory, etc.).
Is the store employee in charge of administrative services absent? Using your bank of hours, our ACCEO support team can assist you directly with certain tasks normally performed by this employee.
The bank of hours allows the support team to perform tasks that take up substantial store employee time (e.g., purging outdated or erroneous information).
Do you have a support request that requires using your bank of hours? We will deduct the actual time worked (if we work for 15 minutes on your request, then only 15 minutes will be deducted from your bank of hours). Otherwise, the hourly rate is applied.
It is also possible to purchase an automated bank of hours, which saves you from having to fill out the form again when your bank is empty.
Ready to save time?
Get a time bank now for your requests requiring urgent, advanced, or personalized support. To do so, please complete the purchase form below.